It's natural to wonder who owns Mercedes-Benz. After all, the world-renowned automaker makes some of the refined and high-performing luxury vehicles on the market. To learn more about who owns the Mercedes-Benz Corporation, other Mercedes-Benz history, and it's current lineup of luxury vehicles, review our guide below!
---
Who Owns Mercedes-Benz Corporation?
Currently, the Mercedes-Benz Corporation is a division of one of the largest German auto manufacturers — Daimler AG. Unsurprisingly, Daimler AG has a reputation for designing and building high-end vehicles. Daimler AG gained ownership of Mercedes-Benz in 1926 when they used to be known as "Daimler-Benz." Today, the headquarters is located in Stuttgart, Baden-Württemberg, Germany.
Who Owns Mercedes-Benz Stadium?
While Daimler AG owns the brand Mercedes-Benz, it does not retain ownership of Mercedes-Benz stadium. So, who owns the Mercedes-Benz Stadium? The stadium of the NFL Atlanta Falcons and MLS Atlanta United is actually the state of Georgia.
---
Overview of Mercedes-Benz History
Karl Benz invented the first gas-powered automobile — the Benz Patent Motorwagen— in 1885. Then, in 1901, the Daimler Motors Corporation publicly marketed the vehicle. It took over 25 years for Mercedes-Benz to fully form into the brand and automaker we're familiar with today. "Daimler-Benz" was created in 1926, when Karl Benz and Gottlieb Daimler merged their automaking companies.
Modern Mercedes-Benz Vehicles
With nearly a century of history behind it, the Mercedes-Benz brand is stronger than ever and moving forward with the creation of advanced features and models for Ladue and Collinsville drivers to enjoy. Today, Mercedes-Benz is known for its lineup of sophisticated sedans, strong SUVs, sporty coupes, sleek roadsters and convertibles, and eco-friendly hybrid vehicles. And not stopping there, Mercedes-Benz also boasts the
AMG® performance division
. This racing-inspired segment is known for its handcrafted engines and building some of the fastest and most powerful cars on the market. Some popular models in the Mercedes-Benz roster include models like: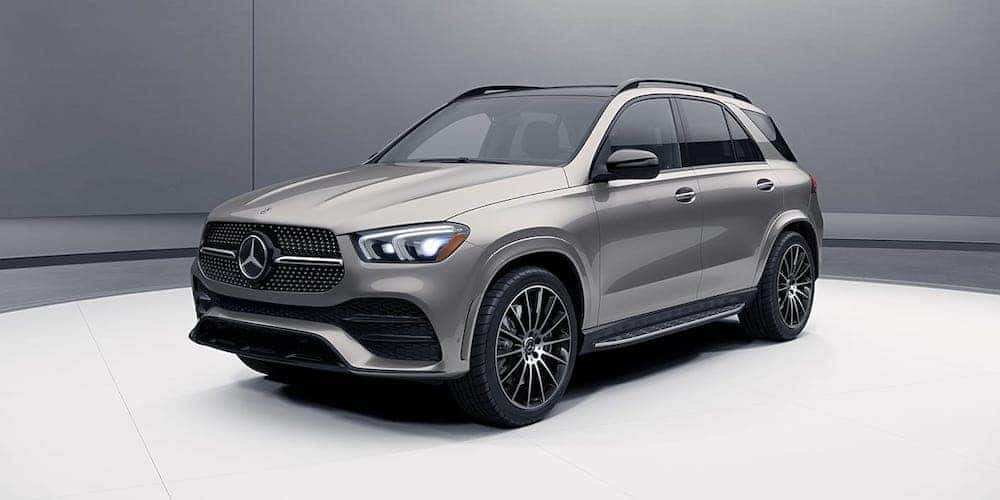 ---
Learn More About Mercedes-Benz at Mercedes-Benz of St. Louis
Now that you know the answers to questions like, "who owns Mercedes-Benz Corporation," and, "who owns Mercedes-Benz stadium," you can get the rest of your Mercedes-Benz questions answered from the team at Mercedes-Benz of St. Louis. Our passionate team members will be excited to talk shop about the Mercedes-Benz brand, vehicles, and more! Stop by our dealership near Ladue or get in touch today!
---
Explore Our Models
The Mercedes-Benz EQE, the newest edition from the brand's E-Class lineup, is one of the most anticipated models in recent memory — and for a good reason. It's difficult for any Clayton driver not to be impressed after reviewing the Mercedes-Benz EQE specs. In the stiff competition between luxury EVs, the Mercedes-Benz EQE travels its…

The 2023 Mercedes-Benz GLC is the latest model of this crossover, and is a respectable choice for Clayton drivers. This model year brings some simple changes to the vehicle but preserves the dapper design and trusty performance. When it comes to exterior design, there are some slight shifts, but there are some exciting 2023…

Starting at $77,850* MSRP, the 2022 Mercedes-Benz GLS offers drivers the ultimate power, luxury, and comfort for their Clayton drives. Wondering about the latest GLS 450 price and features? We have you covered with this guide to the 2022 Mercedes-Benz GLS from Mercedes-Benz of St. Louis. Then, explore our virtual inventory to find the new Mercedes-Benz GLS…