Have you noticed your car trembles when braking? Whether you feel it in the brake pedal or steering wheel, you'll still want to know, "Why does my car shake when braking?" There are a few reasons you may have noticed this new sensation while stopping on the streets of Collinsville, and the Mercedes-Benz of St. Louis service center covers them below!
---
Warped Brake Rotors
The first culprit to look at is your brake rotors. Warped or damaged brake rotors can often cause your car to tremble when braking. Working together with your brake pads, your brake rotors help stop your wheels from spinning. Over time, brake rotors can get thinner and thinner from ongoing wear and tear. This makes them prone to damage. At this point, the heat caused by braking can warp the rotors. This will lead to the brakes pads slipping, and create a shaking sensation. You'll most likely notice this at the brake pedal.
You'll want to consider replacing your brake rotors about every 70,000 miles, though this might need to be done sooner depending on Frontenac climate conditions and your driving style.
Tires in Need of Service
Another answer to the question, "why do my tires shake when braking," could be your tires. Tires that are old and worn or out of alignment cause your vehicle to work harder to compensate. Your tires can become out of alignment by simply hitting a pothole in Clayton, or by bumping the curb. If this causes your car to tremble when braking, it will normally be felt in the steering wheel.
Tire alignments normally accompany routine tire rotations, which are recommended every 5,000 to 7,500 miles.Your owner's manual will have more specific recommendations based on your drivetrain.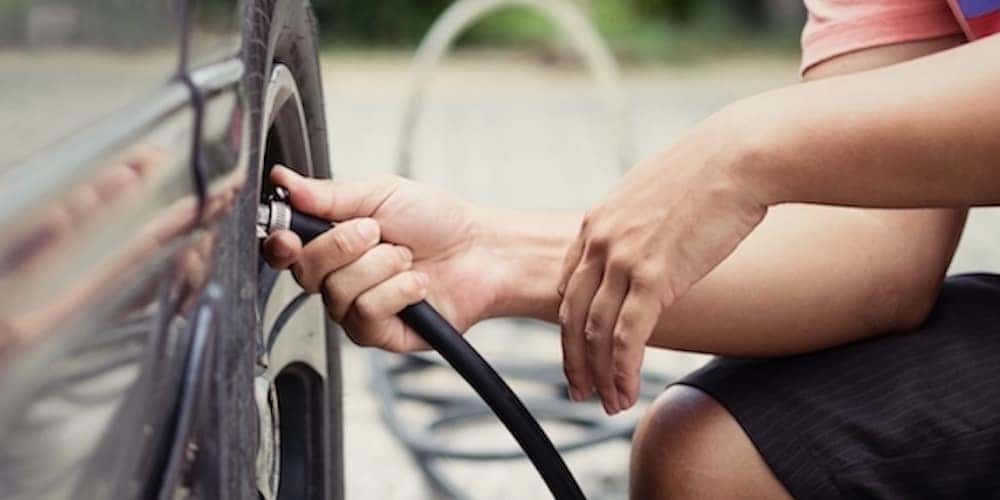 ---
Suspension & Steering Issues
Unlike with the previous issues, if your steering or suspension system is the problem, chances are you will feel shaking during regular driving as well as braking. Still, there are problems, like a damaged axle shaft, which can make this is something you only experience while stopping.
When you bring your vehicle in for any routine service, it's a great time to request a full vehicle inspection. With this inspection, your vehicle's vital systems, including suspension and steering, will be given a thorough look. If our certified technicians notice any issues starting, they can recommend services before they become a major problem.
How to a Car That Shakes When Braking
Since there are multiple reasons that you could be noticing your car shaking, you'll need to seek out the services of a reputable mechanic to diagnose the problem. For your safety and the safety of others, your brakes aren't something you want to wait on. If you start to experience your car trembling when braking, you'll want to schedule a service appointment in St. Louis as soon as possible.
---
Speak With Our Service Team For Help Today!
If you think it's time to get your car in to get checked, or you have lingering questions about your vehicle's performance, reach out to the service team at Mercedes-Benz of St. Louis! Our team of professional technicians are Mercedes-Benz experts, and we use genuine OEM parts in all our maintenance and repairs!
---
Auto Service Coupons in St. Louis
Active, Retired and Military Family receive 10% OFF your next service visit.
Show proof of active, retired or military family prior to repair order.
See service advisor for all details. Does not apply to tires or sublet work. Contact dealership for all all coupon details.
Mercedes-Benz of St. Louis
1048 Hampton Ave., St. Louis, MO
Service: (314) 647-2400
Military Discount - 10% OFF
Expires:
Active, Retired and Military Family receive 10% OFF your next service visit.
Show proof of active, retired or military family prior to repair order.