What to Look For When Buying a Used Car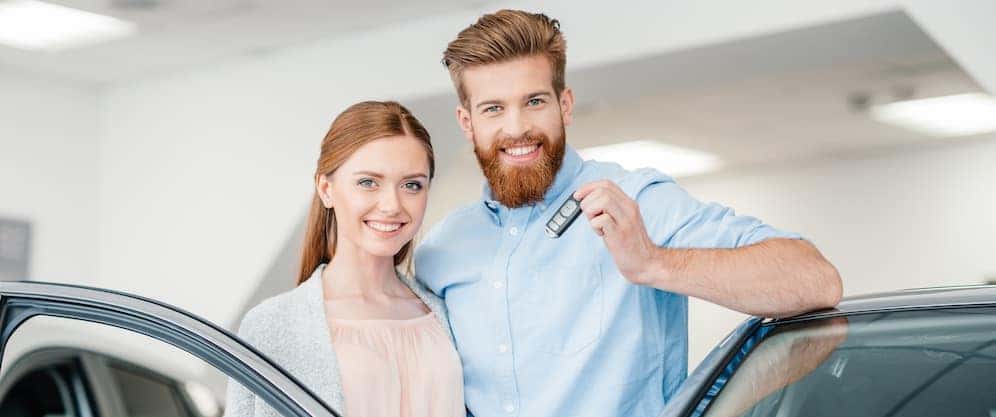 Whether shopping locally or in another state, shopping for a used vehicle can be just as challenging as shopping for a new car. At Mercedes-Benz of St. Louis we work to make sure the process is as easy and hassle-free as it can be for you. Whether you're shopping for a used Mercedes-Benz, or one of our other available makes, use or handy used car buying guide to help you out. When used car shopping, keep in mind that you should do the following:
Research
Budget
Inspect
Try it Out
Let's take a look at the step-by-step process, courtesy of Mercedes-Benz of St. Louis.
Research: Where to Buy Used Cars
You'll have no problem finding used car dealerships around Clayton. The key is to find a trusted, hardworking dealership. Mercedes-Benz of St. Louis offers great trade-in value and a huge selection of used and certified pre-owned cars.
Budget: Mileage, Maintenance, and Cost
An important part of used car shopping is your budget. Everything from condition of the vehicle, potential maintenance needs, and the mileage of the car should be considered.
There are cars and trucks that last upwards of 300,000 miles on one engine, but that's only if they're well cared for.
High mileage cars will usually carry a lower price than comparable models with lower mileage, but they could require more repairs and maintenance.
Factor in what your maximum budget is. Consider purchase price, as well as how much you'll have to spend on potential repairs and maintenance in the near future.
Deciding which used vehicle is right for your Frontenac drives depends on a lot of factors, including savings and peace of mind. You can always opt for a certified pre-owned Mercedes-Benz to split the difference. Speak with our finance department if you have questions about what you can afford.
Inspect: What to Check When Buying a Used Car
Now that you've found our dealership and properly budgeted, the next step is to inspect the vehicle for quality. So, what should you inspect on a used vehicle? Here's a few key things to look at:
Make sure headlights, turn signals, and taillights are working
Check wear on tire treads Damage hidden by careful touch-ups instead of proper repairs
Look for rust around the wheel wells and door edges
Confirm any damage isn't hidden by a touch-up rather than a proper repair
Inspect upholstery for any damage or wear
It doesn't take a seasoned mechanic to spot serious issues. Don't forget to pop open the hood and look for any outstanding issues. Check the battery for corrosive build-up, and make sure everything looks clean and well kept.
Try it Out: Test Drive Before You Buy
Found the perfect model to drive home to Ladue? It's time for a test drive to make sure it lives up to your standards. When you're ready, simply reach out to us at (314) 647-2400 and schedule a test drive. If possible, take the car out and around the highway, not just local roads. Make sure it can withstand whatever driving conditions you'll be going through. Don't hesitate once you've found the model you want as used cars tend to go quickly from our lot.
Find Your Used Car at Mercedes-Benz of St. Louis
You'll find a wide range of Mercedes-Benz and non-Mercedes-Benz models in our used and certified pre-owned inventory. If you have any questions about a model that you're interested in, don't hesitate to contact us today. In the meantime, you can also view our used vehicles under $20k for an even better deal!
More From Mercedes-Benz of St. Louis
In Clayton, nothing will command the attention of other drivers and pedestrians on the sidewalk quite like the Mercedes-Benz GLS. However, what are you getting with the GLS 450 price? You're actually getting quite a bit with this car and we at Mercedes-Benz of St. Louis want to give you all the details on what you're getting with…

If you're in the market for a new 2020 Mercedes-Benz A-Class model, the A-Class interior is sure to impress. With advanced Mercedes-Benz A-Class interior features that incorporate style, luxury, and comfort, you and your Ladue family will upgrade your daily commute! Learn more about the Mercedes-Benz A-Class interior features and A-Class interior dimensions with Mercedes-Benz of St. Louis…

Drivers near Clayton will marvel at the interior of the 2020 Mercedes-Benz E-Class. The sedan's luxurious and elegant interior is the perfect complement to the vehicle's powerful performance. Explore the E-Class interior below, and then compare it to the new C-Class to pick your next Mercedes-Benz Sedan! E-Class Dimensions The E-Class dimensions provide plenty of…